Looking for a rental car that's reliable, boasts top safety features and has standard all-wheel drive? Ciocca Subaru is proud to present our newest service: the Ciocca Rental Concierge Program. Combining a hassle-free rental experience with a line up of award-winning Subaru's. We are ready to take you out on the road!
Why rent a Subaru?
Guaranteed All-Wheel Drive 100% of the time

Going on a Road Trip = More space for friends and luggage + a vehicle you can count on

Extended Test Drive of a newer Subaru before buying or leasing

Use less of your own vehicle's miles

Be comfortable in your rental without learning a different brand's systems and features
How does it work?
Call ahead at (610) 395-3745 to schedule your rental! Walk-ins are available, but preferred vehicle choice is not guaranteed. Vehicles offered range from 2019-2020 models.

Bring a valid driver's license, proof of insurance (must be primary insurance), and valid major credit card. Drivers must be over the age of 21. Pick up your car at scheduled time in the loaner department located in our main service center.

A $500 security deposit is required at time of rental.

Return vehicle with full tank of fuel at scheduled day and time.
How much does it cost?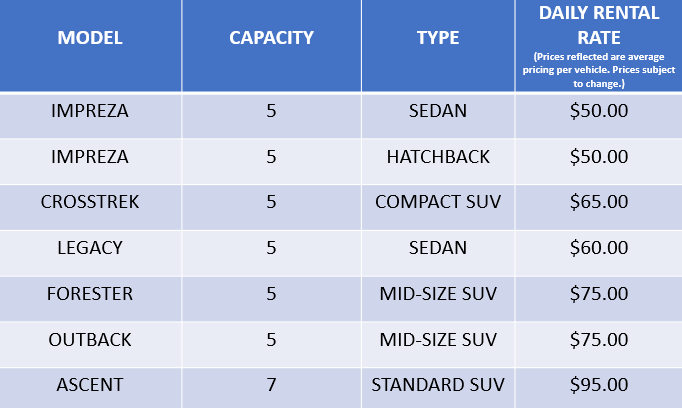 Daily Rental Rates are subject to change. Rental rates are subject to applicable Pennsylvania 6% tax, Vehicle Rental Tax of 2%, and PA Public Transportation Assistance Fee of $2.00 (not included in above vehicle pricing).

Rental includes an allowance of 500 miles total. Each mile thereafter will be charged a rate of $0.35 per mile.

Rentals returned without a full tank of fuel will be charged a refueling fee of $10.00 plus $3.50 per gallon.

Drivers under the age of 25 will be subject to a young renters fee of $20.00 per day.

Our rental vehicles are expected to be returned in the same condition. Misuse fees may apply if car needs a thorough cleaning and detail, smells of smoke or cigarette remnants are present, any traffic or toll violations have occurred, or vehicle is returned after scheduled time.
The Ciocca Rental Concierge Program is a smart choice to make your next adventure the best one yet.
Interested in more information or would like to schedule a rental? Fill out an inquiry here: https://www.cioccasubaru.com/rent-a-subaru.htm. Give us a call at (610) 395-3745 and ask for any available agent in the loaner/rental department for details.