The 2021 Subaru Love Promise Customer and Community Commitment Award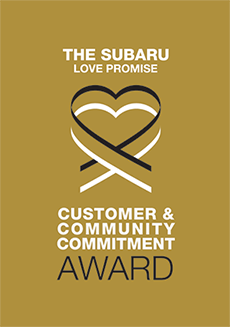 We've been nationally recognized for our dedication to our customers, our community, and the Subaru Love Promise.
We're honored to receive the 2021 Subaru Love Promise Customer and Community Commitment Award. This award nationally recognizes elite Subaru retailers who provide an exceptional customer experience at every interaction with Subaru. These retailers have also demonstrated an outstanding commitment to supporting passions and causes in their local communities in important areas such as the environment, community, health, education, and pets.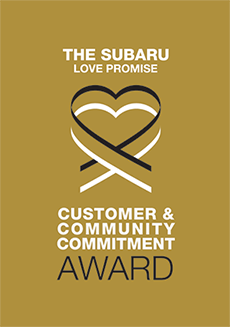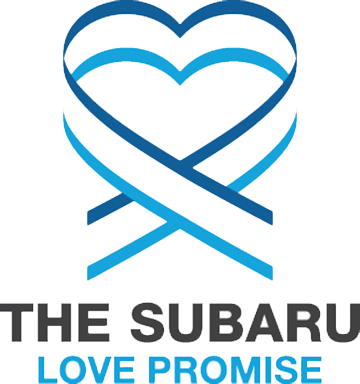 What is the Subaru Love Promise?
Subaru and our retailers believe in making the world a better place and the Subaru Love Promise is our vision of respecting all people. This is our commitment to show love and respect to our customers and to work to make a positive impact in the world.
How is Ciocca Subaru dedicated locally to the Love Promise?
At Ciocca Subaru, our Love Promise to the Allentown area can be seen in our proud support and sponsorship of many of our great local organizations. We're grateful not only to be a part of the Allentown community, but to serve it as well.
Lehigh Valley Humane Society, Last Chance Ranch
William Allen High School,
Valley Youth House, Second Harvest Food Bank of Lehigh Valley and Northeast Pennsylvania, , ,
Leukemia and Lymphoma Society of Eastern PA, Pediatric Cancer Foundation of Lehigh Valley, Epilepsy Foundation Eastern PA, ,
Love Promise Stories from Ciocca Subaru
Subaru and Ciocca Subaru believe in making a positive impact on the communities in which we live and work. We uphold that belief through our Love Promise Community Commitment. Every month, we select inspiring stories from customers and partners from around our area who strive to support our collective commitment and feature them here
Food Pantry Specially Designed for the Community - Jenna S
"Alone we can do so little. Together, we can do so much." With an unexpected pandemic and a year of ups and downs, Subaru wanted to find a way to help members of our local communities. Subaru of America donated over 50 million meals to Feeding America along with participating in many other fundraising and volunteer efforts. At Ciocca Subaru, we've been able to establish a permanent food pantry to our facility. Located outside our service drive, our Subaru Love Promise Food Pantry is open and accessible to the public 24/7. The pantry stays stocked with non-perishables graciously donated from our staff, employees and members of the community. We'd like to recognize the support from one of our past employees: Nick Mann. Nick is the owner of Rustic Era and donated our custom made pantry! If you are interested in donating non-perishables, stop by Ciocca Subaru anytime!
---
PCFLV & Ciocca Subaru Share the Love! - Tracy S
The Pediatric Cancer Foundation of the Lehigh Valley (PCFLV) is so grateful for being selected as a local charity for Ciocca Subaru's 2019/2020 Share the Love promotion. The $59,915 raised through that promotion will enable PCFLV to continue to provide free and unique services and programs to local kids with cancer and their families. PCFLV provides meals and grocery store, gas and hospital cafeteria gift cards to families to lessen the financial burden. We also offer college/trade school scholarships to cancer kids and started a bill-paying fund at Lehigh Valley Reilly Children's Hospital. PCFLV also holds two monthly support groups, one for all families and one for our bereaved families. Each summer, PCFLV holds Camp Smile, a one-week day camp filled with art and crafts, sports, activities, special guests and swimming. Due to the pandemic, our fundraising efforts have been hampered, so the finances we received from Ciocca Subaru will go a long way to helping us to help local pediatric cancer families.
---
Subaru Saves a Piece of History & Gives Back - Jenna S
This past year, Ciocca Subaru purchased Charcoal Drive-In located in Allentown, PA. The iconic sign was a staple in the local community and Ciocca wanted to preserve history with a twist. Through an online bid, the sign sold for over $2,000. All proceeds from the bidding went right back into the community. Over the next few weeks, Ciocca used the proceeds to feed and fund first responders through the Covid-19 pandemic. With all that Ciocca Dealerships & Ciocca Subaru do for the local community, it's a great feeling of taking care of each other like family.
---
Thank you Ciocca for supporting Special Olympics - Alice M
Ciocca Subaru has been a terrific supporter of Bethlehem, Lehigh County, and Northampton County Special Olympics programs serving over 2,000 individuals with intellectual disabilities in the Lehigh Valley. Through the Share the Love Campaign, and Ciocca donations, our programs have been able to start new sports and continue to provide quality sports training and competitions. Northampton County started tennis and equestrian programs as a result of the Ciocca grant. Bethlehem expanded their invitational competitions. Lehigh County and Bethlehem are able to take 40 athletes to a week of sports camp in western PA. Special Olympics is provided at no cost to the athletes or their families, thanks to the generous support of donors like CIocca. This provides access to many who would not otherwise have an opportunity to participate. Through sports and social interactions, Special Olympics brings life-changing experiences not only to the athletes served, but also to their families, coaches, volunteers, and the community. We are so grateful for Ciocca Subaru's support of our programs.
---
Ciocca Subaru & LLS spread love! - Gracie G
On Tuesday, June 25 The Leukemia & Lymphoma Society Eastern PA Chapter and Ciocca Subaru had the pleasure of delivering 80 blankets and several arts &craft kits to the John and Dorothy Morgan Cancer Center at Lehigh Valley Health Network as part of the Subaru Loves To Care program. These comforting gifts were accompanied by personalized messages of hope written by the customers and staff of Ciocca Subaru.This incredible act of generosity was warmly received by the Lehigh Valley Health Network staff who were thrilled to distribute these comforting gifts to their patients. Many thanks to everyone at Ciocca Subaru and Lehigh Valley Health Network not only for a memorable day, but for supporting LLS's mission to cure blood cancers and improve the quality of life of patients and their families!
---
Alzheimer's Assoc. Chapter Subaru Hometown Charity - Elaine G
Thank you Ciocca Subaru for supporting our Alzheimer's Association Delaware Valley Chapter for the 5th year as your Subaru Share the Love Hometown Charity. In 2018, your $10,150 donation helped our Chapter provide programs and services to 9,404 individuals dealing with this deadly brain disease. These services include 129 Consumer Education Workshops; 8 Community Forums; 1,786 Caregiver Support Group meetings; and 3 Full day Dementia Education Conferences. Plus Ciocca Subaru's enthusiastic efforts created awareness for our seven 2018 Walks to End Alzheimer's allowing us to engage 13,000+ participants and raise $2.3 million. It is an absolute honor for Alzheimer's Delaware Valley Chapter to be the Hometown Charity for your impressive company!
---
CanJam for Hunger Sponsored by Ciocca Subaru - Rene B
In honor of Hunger Action Month, Ciocca Subaru sponsored the inaugural Can Jam for Hunger! at Hamilton Crossings Shopping Center in Lower Macungie Township. This event was held to help raise money for the Second Harvest Food Bank. We were proud to sponsor this event and help our community by helping to raise $9,183 and 1,892 pounds of food. It warms our hearts that the community came out to help our neighbors in need.
---
Ciocca Subaru Loves to Care LVHN Cedarcrest! - Jenn P
It's always amazing to see smiling faces in blue shirts even though the weather has reached over 100 degrees. Upon meeting with Nicole, Sean, and Christina from Ciocca Subaru, we quickly learned of their kindness and excitement for blanket delivery. The Lehigh Valley Health Network in Cedar Crest met us with open arms and consistent words of thanks to Subaru. Jill, Infusion Center Director, offered to give a tour of the facility and introduce the Subaru team to staff and deliver a blanket to a newly diagnosed patient. During the tour, Jill noted that they have tripled in size because of the need for care of cancer patients and the incredible impact Subaru is having on the many patients that are newly diagnosed. She noted that they give the blankets to patients that are in need of extra love in their first days of diagnosis and treatment. There happened to be one newly diagnosed gentlemen in need of some cheer. The LVHN team allowed the Subaru & LLS staff to bring him a blanket and tote bag and he exclaimed "It's like Christmas in July!" As we continued our tour, the nurses, physicians, and staff offered so much warm welcome and excitement that Subaru joined them on what would normally be a hot and quiet day in the infusion center.Thank you Ciocca Subaru, for Loving to Care, and for sharing your joy with our patients and families.
---
Share the Event!!! - Amanda S
On behalf of all of all our athletes, we would like to extend a heartfelt thank you to Ciocca Subaru for their continued support of Northampton County Special Olympics through their "Share the Love" campaign. It is hard to put into words what their commitment truly means to our program. Instead, our thank you can be seen in the faces of our athletes as they compete in local and state competitions. It can be heard in the cheers of support and congratulations as athletes receive a medal in their sport. But, most of all it can be felt in the hearts and minds of our athletes as they exemplify the pride of what it means to be a Special Olympics athlete. Providing these opportunities to our athletes requires significant financial aid and we simply could not do it without support from businesses in our community. Cioccu Subara continues to be one of our valued community partners and we look forward to working with them in the future
---
Alzheimer's Delaware Valley Chapter Thank You - Elaine G
Our Alzheimer's Association Delaware Valley Chapter is incredibly grateful to the Ciocca Subaru Dealership for their 2017 Share the Love campaign donation of $9,078.94. Thanks to your generous support our Chapter can continue to offer free programs and services to the 300,000+ people in our area affected by Alzheimer's disease, the 6th leading cause of death in America. We want everyone dealing with Alzheimer's to know that help is just one phone call away. Our 24/7 Alzheimer's Helpline* number is 800-272-3900. (*Translated into 160 languages and covers all 50 states.)
---