The 2021 Subaru Love Promise Customer and Community Commitment Award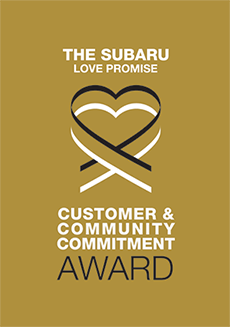 We've been nationally recognized for our dedication to our customers, our community, and the Subaru Love Promise.
We're honored to receive the 2021 Subaru Love Promise Customer and Community Commitment Award. This award nationally recognizes elite Subaru retailers who provide an exceptional customer experience at every interaction with Subaru. These retailers have also demonstrated an outstanding commitment to supporting passions and causes in their local communities in important areas such as the environment, community, health, education, and pets.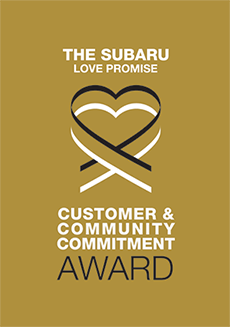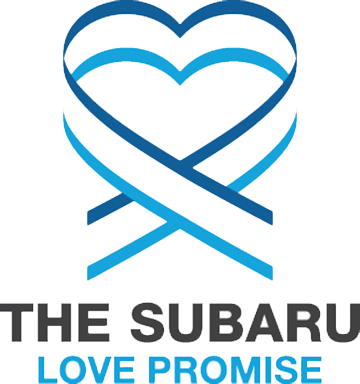 What is the Subaru Love Promise?
Subaru and our retailers believe in making the world a better place and the Subaru Love Promise is our vision of respecting all people. This is our commitment to show love and respect to our customers and to work to make a positive impact in the world.
How is Ciocca Subaru dedicated locally to the Love Promise?
At Ciocca Subaru, our Love Promise to the Allentown area can be seen in our proud support and sponsorship of many of our great local organizations. We're grateful not only to be a part of the Allentown community, but to serve it as well.
Lehigh Valley Humane Society, Last Chance Ranch
William Allen High School,
Valley Youth House, Second Harvest Food Bank of Lehigh Valley and Northeast Pennsylvania, , ,
Leukemia and Lymphoma Society of Eastern PA, Pediatric Cancer Foundation of Lehigh Valley, Epilepsy Foundation Eastern PA, ,
Love Promise Stories from Ciocca Subaru
Subaru and Ciocca Subaru believe in making a positive impact on the communities in which we live and work. We uphold that belief through our Love Promise Community Commitment. Every month, we select inspiring stories from customers and partners from around our area who strive to support our collective commitment and feature them here
Food Pantry Specially Designed for the Community - Jenna S
"Alone we can do so little. Together, we can do so much." With an unexpected pandemic and a year of ups and downs, Subaru wanted to find a way to help members of our local communities. Subaru of America donated over 50 million meals to Feeding America along with participating in many other fundraising and volunteer efforts. At Ciocca Subaru, we've been able to establish a permanent food pantry to our facility. Located outside our service drive, our Subaru Love Promise Food Pantry is open and accessible to the public 24/7. The pantry stays stocked with non-perishables graciously donated from our staff, employees and members of the community. We'd like to recognize the support from one of our past employees: Nick Mann. Nick is the owner of Rustic Era and donated our custom made pantry! If you are interested in donating non-perishables, stop by Ciocca Subaru anytime!
---
PCFLV & Ciocca Subaru Share the Love! - Tracy S
The Pediatric Cancer Foundation of the Lehigh Valley (PCFLV) is so grateful for being selected as a local charity for Ciocca Subaru's 2019/2020 Share the Love promotion. The $59,915 raised through that promotion will enable PCFLV to continue to provide free and unique services and programs to local kids with cancer and their families. PCFLV provides meals and grocery store, gas and hospital cafeteria gift cards to families to lessen the financial burden. We also offer college/trade school scholarships to cancer kids and started a bill-paying fund at Lehigh Valley Reilly Children's Hospital. PCFLV also holds two monthly support groups, one for all families and one for our bereaved families. Each summer, PCFLV holds Camp Smile, a one-week day camp filled with art and crafts, sports, activities, special guests and swimming. Due to the pandemic, our fundraising efforts have been hampered, so the finances we received from Ciocca Subaru will go a long way to helping us to help local pediatric cancer families.
---
Subaru Saves a Piece of History & Gives Back - Jenna S
This past year, Ciocca Subaru purchased Charcoal Drive-In located in Allentown, PA. The iconic sign was a staple in the local community and Ciocca wanted to preserve history with a twist. Through an online bid, the sign sold for over $2,000. All proceeds from the bidding went right back into the community. Over the next few weeks, Ciocca used the proceeds to feed and fund first responders through the Covid-19 pandemic. With all that Ciocca Dealerships & Ciocca Subaru do for the local community, it's a great feeling of taking care of each other like family.
---
Thank you Ciocca for supporting Special Olympics - Alice M
Ciocca Subaru has been a terrific supporter of Bethlehem, Lehigh County, and Northampton County Special Olympics programs serving over 2,000 individuals with intellectual disabilities in the Lehigh Valley. Through the Share the Love Campaign, and Ciocca donations, our programs have been able to start new sports and continue to provide quality sports training and competitions. Northampton County started tennis and equestrian programs as a result of the Ciocca grant. Bethlehem expanded their invitational competitions. Lehigh County and Bethlehem are able to take 40 athletes to a week of sports camp in western PA. Special Olympics is provided at no cost to the athletes or their families, thanks to the generous support of donors like CIocca. This provides access to many who would not otherwise have an opportunity to participate. Through sports and social interactions, Special Olympics brings life-changing experiences not only to the athletes served, but also to their families, coaches, volunteers, and the community. We are so grateful for Ciocca Subaru's support of our programs.
---
Ciocca Subaru & LLS spread love! - Gracie G
On Tuesday, June 25 The Leukemia & Lymphoma Society Eastern PA Chapter and Ciocca Subaru had the pleasure of delivering 80 blankets and several arts &craft kits to the John and Dorothy Morgan Cancer Center at Lehigh Valley Health Network as part of the Subaru Loves To Care program. These comforting gifts were accompanied by personalized messages of hope written by the customers and staff of Ciocca Subaru.This incredible act of generosity was warmly received by the Lehigh Valley Health Network staff who were thrilled to distribute these comforting gifts to their patients. Many thanks to everyone at Ciocca Subaru and Lehigh Valley Health Network not only for a memorable day, but for supporting LLS's mission to cure blood cancers and improve the quality of life of patients and their families!
---
Alzheimer's Assoc. Chapter Subaru Hometown Charity - Elaine G
Thank you Ciocca Subaru for supporting our Alzheimer's Association Delaware Valley Chapter for the 5th year as your Subaru Share the Love Hometown Charity. In 2018, your $10,150 donation helped our Chapter provide programs and services to 9,404 individuals dealing with this deadly brain disease. These services include 129 Consumer Education Workshops; 8 Community Forums; 1,786 Caregiver Support Group meetings; and 3 Full day Dementia Education Conferences. Plus Ciocca Subaru's enthusiastic efforts created awareness for our seven 2018 Walks to End Alzheimer's allowing us to engage 13,000+ participants and raise $2.3 million. It is an absolute honor for Alzheimer's Delaware Valley Chapter to be the Hometown Charity for your impressive company!
---
CanJam for Hunger Sponsored by Ciocca Subaru - Rene B
In honor of Hunger Action Month, Ciocca Subaru sponsored the inaugural Can Jam for Hunger! at Hamilton Crossings Shopping Center in Lower Macungie Township. This event was held to help raise money for the Second Harvest Food Bank. We were proud to sponsor this event and help our community by helping to raise $9,183 and 1,892 pounds of food. It warms our hearts that the community came out to help our neighbors in need.
---
Ciocca Subaru Loves to Care LVHN Cedarcrest! - Jenn P
It's always amazing to see smiling faces in blue shirts even though the weather has reached over 100 degrees. Upon meeting with Nicole, Sean, and Christina from Ciocca Subaru, we quickly learned of their kindness and excitement for blanket delivery. The Lehigh Valley Health Network in Cedar Crest met us with open arms and consistent words of thanks to Subaru. Jill, Infusion Center Director, offered to give a tour of the facility and introduce the Subaru team to staff and deliver a blanket to a newly diagnosed patient. During the tour, Jill noted that they have tripled in size because of the need for care of cancer patients and the incredible impact Subaru is having on the many patients that are newly diagnosed. She noted that they give the blankets to patients that are in need of extra love in their first days of diagnosis and treatment. There happened to be one newly diagnosed gentlemen in need of some cheer. The LVHN team allowed the Subaru & LLS staff to bring him a blanket and tote bag and he exclaimed "It's like Christmas in July!" As we continued our tour, the nurses, physicians, and staff offered so much warm welcome and excitement that Subaru joined them on what would normally be a hot and quiet day in the infusion center.Thank you Ciocca Subaru, for Loving to Care, and for sharing your joy with our patients and families.
---
Share the Event!!! - Amanda S
On behalf of all of all our athletes, we would like to extend a heartfelt thank you to Ciocca Subaru for their continued support of Northampton County Special Olympics through their "Share the Love" campaign. It is hard to put into words what their commitment truly means to our program. Instead, our thank you can be seen in the faces of our athletes as they compete in local and state competitions. It can be heard in the cheers of support and congratulations as athletes receive a medal in their sport. But, most of all it can be felt in the hearts and minds of our athletes as they exemplify the pride of what it means to be a Special Olympics athlete. Providing these opportunities to our athletes requires significant financial aid and we simply could not do it without support from businesses in our community. Cioccu Subara continues to be one of our valued community partners and we look forward to working with them in the future
---
Alzheimer's Delaware Valley Chapter Thank You - Elaine G
Our Alzheimer's Association Delaware Valley Chapter is incredibly grateful to the Ciocca Subaru Dealership for their 2017 Share the Love campaign donation of $9,078.94. Thanks to your generous support our Chapter can continue to offer free programs and services to the 300,000+ people in our area affected by Alzheimer's disease, the 6th leading cause of death in America. We want everyone dealing with Alzheimer's to know that help is just one phone call away. Our 24/7 Alzheimer's Helpline* number is 800-272-3900. (*Translated into 160 languages and covers all 50 states.)
---
Ciocca Shares the Love w/William Allen High School - Rene B
William Allen High School is one of two, large urban, public high schools of the Allentown School District. Ciocca Subaru believes that education is a big part of life and we were very excited to join up with the science students from William Allen High School to donate some awesome science books. All the kids seemed very excited for all the new books and looked forward to reading them. Even the teacher thought that she may add one of the books to the curriculum. It was great to be a part of the Subaru loves learning initiative and we hope the book get lots of use.
---
Tattered Tails Animal Rescue, Inc., Shannon E. - Shannon E
Tattered Tails Animal Rescue would like to thank you again for a great day. We appreciate the toys you give to our foster babies while they are there, your Subaru care packages you put together for them to make them feel special, and the plentiful donations you supply. We can't thank you enough for what you do for the community and we appreciate you adding animals to your care list. We hope to join you again next year!
---
Ciocca & LVHN Cedar Crest Loves To Care - Monique R
On July 26th, 2017, Ciocca Subaru of Allentown, PA and The Leukemia & Lymphoma Society (LLS) of Eastern PA teamed up to deliver hope and light to patients at the Children's Cancer Center and Multipurpose Infusion Center at Lehigh Valley Health Network in Allentown, PA as part of Subaru's Loves To Care Campaign. This new Infusion Center had only opened days before Ciocca and LLS delivered 80 blankets, care cards and 12 arts & crafts kits. The hospital was very excited to receive all these wonderful items. It was great to look thru the care cards to see words of encouragement and the drawings customers did. These care cards will be great encouragement for these young patients going thru treatment. The hospital personnel will deliver blankets along with the care cards to patients the majority of them being children and the arts & crafts kits will be used by the children while they are there for treatment or seeing the doctor. Even though we were not able to personally deliver the blankets we were able to have a tour of the new Center. Thank you to everyone for helping bring light, hope and warmth into these patients lives.
---
Kutztown Middle School join in creating a Habitat - Shelby B
Kutztown Area Middle School began working on a native plant garden in the early 2000's following a school renovation project which left much of the landscape in a monoculture of grass. Through numerous grants and collaboration with local conservationists, our middle school students have created a full-fledged wildlife habitat and oasis within the surrounding athletic fields and farm lands. Students regularly go to the habitat garden for nature journaling, plant and animal studies, and lessons connecting art, math and science. Again, thank you so much for helping us build our wildlife habitat at Kutztown Area Middle School!
---
Ciocca Special Benefit Performance - Hilary S
Dear Gregg: We continue to receive excellent feedback from families, friends and sponsors about their experience at the Run for Woods. There was an energy to the event this year that I don't think we have had in the past. We had nearly 1,100 people running, walking or rolling -- including hundreds of clients – making our run/walk one of the largest integrated sporting events in Bucks County. More than 100 volunteers staffed the course as marshals and assisted with rest stops, registration, and lunch. We were fortunate that following drenching rain on Friday, the sun broke through just moments before the Opening Ceremony. We were overwhelmed by the hard work of your 9 dealerships that raised generosity of nine Faulkner Ciocca Dealerships that raised a whopping $90,000 for Woods this year, and a record-breaking turnout, a total of $200,000 was raised for Woods Services. Joe Faulkner and Gregg Ciocca were on hand with their families to ensure that Woods reached its goal. Funds raised at the run/walk support services not currently covered or reimbursed by any funding source (including school systems, private insurance, Medicare or Medicaid) like music and art therapy, field trips and tickets to sporting or cultural events in the community or capital improvements to our buildings and grounds.Your generosity is greatly appreciated. Thank you for supporting Woods and our annual Run for Woods 5K. Hilary H. Stephens Vice President, Development Woods Services
---
Subaru Loves Learning Initiative - Rene B
Ciocca Subaru joined in with the Subaru Loves Learning initiative! We partnered with American Association for the Advancement of Science (AAAS) in donating science books to Cetronia Elementary School in the Parkland School District. The books that have been donated are some of the best Science books in their field.
---
Subaru Share the Love - Nicole S
From now until January 3rd, a $250 donation will be made to the charity of your choice if you purchase or lease a brand new Subaru. This year, Ciocca Subaru's hometown charities are the Alzheimer's Association and Special Olympics Pennsylvania. The mission of the Alzheimer's Association is to eliminate Alzheimer's disease and related disorders through the advancement of research; to provide and enhance care and support for all effect, and to reduce the risk of dementia through the promotion of brain health. The mission of the Special Olympics PA is to provide year-round sports training and competition in a variety of Olympic-type sports for children and adults with intellectual disabilities. The national charities you can also donate to are the ASPCA, Make-A-Wish, Meals on Wheels America, and National Park Foundation. Share the love this holiday season by putting a little love in people's hearts.
---
Subaru Loves Pets-Thankful Rescue TTAR - Heather D
Tattered Tails Animal Rescue, Inc. is a non-profit, non kill foster based animal rescue. As a foster based rescue we rely greatly on local events in order to help find forever homes quickly. Being part of this event allowed us to build relationships with other organizations fighting for the same cause as we are. We were also able to find an amazing potential adopter for the dog we showcased at the event. On top of if all, we continue to get recognition from the event through social media which allows us to get more exposure for other tattered tails in need of forever homes. The folks that arranged the Subaru Loves Pets event were purrrfect to work with. Not only was the event superbly organized and advertised, communication was flawless. We look forward to watching this event grow over the years! Thank you Subaru for helping make a difference!
---
Subaru loves pets event - Jennie M
Thank you so much Ciocca Subaru, for inviting us to your pet adoption event! Hair of the Dog Rescue, Inc. was so excited to be invited to participate in this wonderful event that was located right in our own neighborhood! We are a brand new animal rescue and our mission is one not many have heard about. This kind of positive exposure is invaluable to us. It was a wonderful event attended by not only our volunteers, but by my husband and children and my own personal pets. Everyone had a great time and we were able to inform our community about the Redland Dogs and how we intend to help them. We came home with two big boxes of much needed supplies! Towels and collars and kibble and even treats and toys. Thank you, so much, Ciocca Subaru, and we hope you will continue to hold events like this and we hope that we will be fortunate enough to be invited back. We thank you, and the abandoned pets of the Redlands, thank you. Your generosity is appreciated beyond words.
---
Subaru-Loving Family Gives Thanks and Brings Hope - Valerie A
Garrett was born May 4, 2010. He was a very happy and healthy baby boy – just perfect! At the end of July 2012, Garrett started to complain about back pain. After about one week of Garrett complaining about his back pain, his appetite started to decrease and he began having trouble walking and sleeping. On August 4, Garrett woke up screaming in pain and was unable to walk. He was rushed to the closest ER where they took more x-Rays and blood samples. Garrett was then transported to the Children's Hospital of Philadelphia for more testing. After reading the new set of x-rays, doctors at CHOP discovered that Garrett's bones were very fragile and he had very high levels of calcium in his blood. On August 7, Garrett was diagnosed with Leukemia. The very next day, Garrett received his port and on August 9, Garrett received his first dose of chemotherapy. Since that day Garrett has proven to everyone just how strong he really is, and how he's determined to never give up. As of December 2015, Garrett is now cancer-free and has volunteered for numerous Leukemia & Lymphoma Society events. Garrett's mom, Valerie, a long-time Subaru owner and fan, drives a 2003 bright-yellow WRX Subaru. She has such a great love for the brand, her email address is subaru03wrx@hotmail.com. Valerie and Garrett jumped at the offer to thank the local Subaru dealership in person for their generosity and deliver blankets to patients currently undergoing treatment.
---
Ciocca Subaru on joining the Eco-Friendly Program! - Rene B
Subaru of America, Inc. congratulates Ciocca Subaru on joining the Eco-Friendly Program! Ciocca Subaru has been using Eco-Friendly conscious methods for some time. One major way they are impacting the environment is their process of compacting non-recyclable trash and sending it to their local Waste to Energy Plant. This makes them a zero landfill retailer!
---
Subaru Loves Pets - Ali G
Thank you Ciocca Subaru for Loving Pets. Your "Subaru Loves Pets Event" helped The Sanctuary at Haafsville Animal Rescue in many different ways. Not only did you introduce Jed (an older and extra loving beagle from our shelter) to his new forever family, the donations you collected and shared with us helped us feed and provided added comfort for our animals. Also, by allowing us to sell our home-made dog treats we were able to make a little extra money that went towards our vet bills. Our organization runs strictly on donations just like these and every little bit helps us to continue to rescue and care for animals in need. Lastly, your event gave us the chance to share information about our organization and our passion for helping animals with an entirely new group of people. This added exposure is extremely important for us to recruit volunteers and connect with potential adopters. The Sanctuary at Haafsville is excited to be celebrating 5 years of rescuing & caring for animals. Events like this are a key part of our continued success. We are truly thankful to have had the opportunity to share in this experience. Thank You From the Animals & Volunteers of The Sanctuary at Haasfville.
---
Subaru Loves Learning Book Drive - August 1-31 - Molly M
Join us in our Subaru Loves Learning initiative during the month of August! We are partnering with the American Association for the Advancement of Science (AAAS) in donating science books to Cetronia Elementary. All of the books that will be donated have been recognized by AAAS as some of the best science books in their field. Contact us to learn more information.
---
Subaru Loves the Earth - E-Waste Event - Danielle S
We would like to thank our customers for participating in our E Waste Recycling event during the month of April. With your help, we were able to prevent 37,762 lbs of carbon emissions from polluting the atmosphere. This is equivalent to saving 1,446 trees, 6,421 gallons of gasoline, 54,744 plastic bottles, and 251,812 aluminum cans. Thank you for helping strengthen the Subaru Love Promise!
---
Thank you! - Lexi T
The Alzheimer's Association Delaware Valley Chapter is truly grateful for the team at Ciocca Subaru in Allentown. Your support in the Share the Love Event truly meant the world to us. Your support helps us provide services to families facing Alzheimer's Disease. Thank you for all that you are doing to help the community!
---
Thank you for supporting Special Olympics! - Dan F
Your support of Special Olympics athletes and organizations in Lehigh and Northampton Counties, and Bethlehem City has been tremendous! All monetary donations received by these organizations go directly to supporting the athletes' training and competition programs, such as paying for the use of training facilities, transportation to competitions, and the purchase of uniforms. Through your support, you are positively impacting the lives of people with Intellectual Disabilities. Thank you for continuing to support Special Olympics. Dan Floryshak Aquatics Coach Special Olympics Lehigh County
---
Lehigh County Special Olympics Loves Subaru! - Patricia L
Lehigh County Special Olympics, along with Northampton and Bethlehem were honored to be benefactors of the Subaru's Share the Love program. Words cannot express how much this donation means to the athletes from these group. These funds will allow the athletes to continue to participate in year round sports training programs. Special Olympics is very very grateful to Subaru for their ongoing support. From all of the athletes who's lives these funds are enhancing THANK YOU!
---
Ciocca Shares the Love with Special Olympians - Debbie K
For the past 2 years Ciocca Subaru has chosen Special Olympics Bethlehem, Lehigh and Northampton Counties to be recipients of proceeds in the Subaru Share the Love program. This year each of the counties sent athletes to participate in a community day event at the dealership. While having the opportunity to show off competition medals to customers and staff, the athletes also shared stories, lunch, laughter and cookies with them. The Ciocca staff was enthusiastic, friendly, and supportive of each of the participants. Smiles all round! THANK YOU Subaru of America, Ciocca Subaru's Management and Staff for their generous support of more than $15,000 from this year's Share the Love event- the proceeds assist nearly 1,800 athletes in those 3 counties to actively compete in Olympic style sports competitions! IT IS TRULY APPRECIATED!
---
April 1-30, 2015 E-Waste Recycling Event - Molly M
Throughout the month of April, we are hosting an E-Waste Recycling Event in our store to collect unwanted electronics. We've arranged to work with a company who will responsibly collect, re-purpose, and recycle your electronic waste. Help us protect our environment. Just show up with your E-Waste and we'll do the rest! The first 50 customers who contribute will receive a complimentary environmental badge of ownership. We will accept: LCD Monitors, Cell Phones, Laptops, Tablets, CRTs up to 40, Video Games/Consoles, Fax Machines, DVD/VCR Players, Printers, Computer Peripherals, Switches/Routers, Cords and Wires.
---
Easter Seals - Gregg R. C
Easter Seals Gregg Ciocca donated $800 to the Easter Seals.
---
American Red Cross - Gregg R. C
American Red Cross Gregg Ciocca donated $1,000 to the American Red Cross.
---
Life Long Relationship - Sue M
I will get my next Subaru from them These people are the greatest. Had my car serviced last week, and on top of doing a great job on my car, they gave me a lift to work. I have used this dealership for over 20 years and have purchased four Subarus from them. I will get my next Subaru from them. They just keep getting better and better. - Sue Miller
---
Best Car Purchase Experience - Edward T
Best Car Purchase Experience In my opinion this was the best car purchase experience in my 44 years of car buying. We have bought over 10 new vehicles. Great job, Dennis R. Just had my first oil change, and not only was it fast but it also included a complimentary car wash. - Edward Tatton
---
Great Experience - Jay K
Helpful, honest, and genuine. By far best dealership I've ever been to. Helpful, honest, and genuine. Don't bother going anywhere else. - Jay Kunkel
---
Donation helps buy Children's Car Seats - Gregg R. C
Lehigh Valley Hospital Network Gregg Ciocca donated $8,000 to the Lehigh Valley Hospital Network to provide under-privileged people children's car seats.
---
Fantastic experience - Amilyn L
Fantastic experience Fantastic experience. Greg Fichter is the man. So great, we came back later that day to buy our second Subaru (in one day!). - Amilyn Lanning
---
Great experience all around - Keith L
Great experience all around Great experience all around. Everyone was very nice. We were there longer than expected since we decided to get a car while were there. They fed us pizza that was ordered for the staff. And they were even very understanding of my cranky daughter as well. All in all, very happy to tell anyone looking for a Subaru, to come here. We were recommended to come here and so glad we did. My wife drove off the lot in a brand-new Impreza. - Keith Long
---
A deserving winner - Gregg R. C
Lehigh Carbon Community College The last thing you'd expect to find at a car dealership is a pelican. But that's just what Tim Herrlinger drove away with a few weeks ago when he bought a 2014 Impreza at Ciocca Subaru in Allentown. Herrlinger, the executive director of the Lehigh Carbon Community College Foundation, won a 10-foot Pelican Summit kayak as part of a contest presented by Ciocca and the Army Navy Store of Whitehall Township. He said he was at the dealership, on Hamilton Street, looking for a car when he found out about the contest. "My Subaru had 170,000 miles on it, so it was about time for a new one. I went back to the [Ciocca] Subaru dealer and they happened to be having a raffle. I never win those things and wasn't going to enter, but my salesman, Greg Fichter, told me, 'Do it anyway.'" Fichter said he was thrilled that Herrlinger was the winner. "Out of all my customers who came in and bought a car, he was the most excited about the kayak. He wanted it, and he won it. It was awesome." Fichter said Herrlinger is also happy with his new car. "It's a 2014 Subaru Impreza, but he calls it a Subaru Impressive." -Patrick O'Donnell
---
Ciocca Subaru partners with Special Olympics - Patrick O
Special Olympics Ciocca Subaru presented local Special Olympics teams with a $4,924.63 check last week. The donation was the total raised through Subaru's annual "Share the Love" program, in which Subaru donates $250 for every new Subaru sold or leased. The latest program ran November 21, 2013, to January 2, 2014. Bethlehem Special Olympics Treasurer Debbie Kocher was on hand to receive the check on behalf of three local programs-in Bethlehem, Lehigh County, and Northampton County-that have a total of 1,745 registered athletes. The Special Olympics organization has more than 20,000 athletes in Pennsylvania. The donation will be used by the programs to support their athletes in competition, training, transportation, uniforms, and equipment. Ciocca Subaru Owner Gregg Ciocca said he was thrilled to be able to help the Special Olympics teams and looks forward to even more work with the group. -Patrick O'Donnell
---